MotoGP BHARAT
Fairstreet Sports organized the spectacularly successful MotoGP championship round in India on September 22 - 24, 2023.Witness the roar of these 1000cc beasts screaming through the Buddh International Circuit, India at 350 km/h again on 20th to 22nd Sep, 2024!
Team
Vaibhav Sinha, CEO
Vaibhav has over two decades of experience in starting and operating companies in software, mining, healthcare and cosmetics. He is an Adrenaline Junkie and a Nerd with a history of being a skydiver, a motorcycle racer and a car rally driver while also being an avid coder and a software geek. A graduate of IIT Delhi, Vaibhav has started and operated companies in the US, Canada, UK and India. With a diverse experience in entrepreneurship and action sports, he brings with him a healthy mix of rich organizational skills and a love for motorsports to Fairstreet.
Pushkar Nath Srivastava, COO
Pushkar brings over 20 years of experience in successfully operating businesses in diverse industries, including software, food delivery, and supply chain operations. Pushkar has a track record of streamlining processes and implementing effective strategies that drive growth and profitability. He is a strong leader with excellent communication and problem-solving skills, able to lead cross-functional teams to achieve company objectives.
Sandesh Jaju, Finance Head
Sandesh is a highly skilled finance professional with expertise in Corporate Finance, Valuations, Financial Reporting, Consultancy, and Audits. He is a Chartered Accountant, CFA, and Registered Valuer, and has a talent for developing sustainable expansion strategies through effective financial management. With a wide range of industry experience, including work with clients in the Banks, Infrastructure, Education, Telecom, Automobile, FMCG, Hospitality, Technology, and Power sectors, Sandesh has handled transactions totaling close to a billion dollars across various business scenarios including Equity/Debt Fundraising, Mergers & Acquisitions, and New Launches, giving him a strong business perspective.
Baldy Rakhra, Chief Relationship Officer
Baldy is an established global leader and business development expert with a 20+ year history of success, driving performance, innovation, and expansion within cutting-edge international tech companies and startups. Recognized for his ability to generate new partnerships and maintain existing relationships with C-level executives, stakeholders, managers, and clients to effectively execute revenue-driven strategies and achieve sustainable growth across North & South America and Southeast Asia.
Anindya Paul, Marketing & Communications Advisor
About 22 years of experience in Brand Marketing & Communication, Film production, Event management and Digital Media initiatives for domestic and international brands in India and South East Asia.
Amit Sandill, Director Racing
Amit has decades of motorsports experience in wide ranging roles. He founded a new team and was its Co-owner and Team Principal - Mahi Kawasaki Racing Team India, India's first ever World Championship Racing team participating in the 2012 FIM Superbike World Championship (Supersport 600cc category). As Team Principal, he was responsible for the team and all its activities and took Mahi Racing to the World Championship title, in 2013.
He was instrumental in getting Glenn Allerton to many victories in the Malaysian Super Series, with factory support from BMW, in the Superbike Open category, on the fantastic BMW S1000RR Superbike, churning out 210 bhp.
Sibtain Baqri, Chief Sporting Officer
Sibtain brings with him 25 years of experience in leading communication strategies for brands and a keen ability to generate & execute Big Ideas that sell concepts, affect behavior & eventually build brands. His areas of experience include Sports Management, Marketing Communications & Brand Management where he has conceptualized and executed strategies & plans across genres through creative leadership and operational skills, be it in IPL, HIL, Abu Dhabi T10, or with Formula One's only Indian team, Sahara Force India. He possesses a powerful sports management & sponsorship background having been part of some of the largest deals in the history of sports.
Sushant Srivastava, SVP (City Tours)
Sushant has 21 years of corporate experience with a unique specialization in Motion Picture Production, Films/Movies, Media incl. Hospitality. He is a sports enthusiast at heart. he has been instrumental in handling Corporate Affairs with major multinationals.
Taha CK, VP (International Relations)
Taha is the Chair of UK Asian Business Council (UKABC), where he specialises in international business development and marketing focusing on the following sectors of Media ,Defence,Charity Renewable & Green Energy, Education & Sports. His experience of 23 years in business spans across several geographical regions, including the UK, Europe, Asia, Americas and Africa. He has been appointed at the Economic & Business Advisor to the Kingdom of Bunyoro-Kitara.
Priyanka, CS
Priyanka is an optimistic person with a clear vision. She firmly believes that "When the going gets tough, the toughest gets going." She is an educational entrepreneur and practising company secretary. Achieving the set goals have made her more driven and resourceful.
Romil Kapoor, Finance Consultant
Romil Kapoor is Ex Credit Suisse and has over a decade of experience in evaluating Multi-Billion Dollar Investment Portfolios focused on the US, Canada, UK, and EU. Prior to his stint at Credit Suisse, he was a Consultant to Regulatory Compliance and Financial Risk Management Teams of Top Investment Banks in North Americas: Morgan Stanley (New York), Royal Bank of Canada (Toronto) and Pittsburgh National Corporation Bank (Pittsburgh).
He specializes in Financial Advisory for Corporates and Wealth Management for Individuals He believes all Financial decisions must be based on a robust Risk-based decision Framework to unlock the maximum potential of Capital.
Alok Singh, VP (Logistics)
Alok is a Management & Law graduate, thorough professional and an astute leader with over 20 years of diverse experience as a Paramilitary Force officer, Program Manager, Business & Strategy Consultant and Investment Advisor.
Over the years he has acquired diverse domain knowledge and has handled large teams. He brings expertise in organising and executing large scale events in Project Management, Logistics & Operations, Customs Clearances, Regulatory compliances, Process Improvements, Security and Fraud Investigations.
About
Our founders started a decade back with the objective of adding fairness to the fundraising process for early creators, entrepreneurs and the like - we tried to reflect that ethos in our name. Ever since, our intention in everything we do has been to bring access and equity to the world - make this universe a little more "fair," if you will.As part of the journey that our Bharat is taking right now to uplift millions into prosperity, we thought that our small contribution could be to bring Bharat on to the world map of motorsports - starting with the pinnacle of Motorcycle Racing - the MotoGP. India is home to the largest number of motorcycle riders in the world. While there are increasingly more cars on the road today, motorcycles and scooters have provided transportation to our parents' and grand parents' generation.Fairstreet Sports has signed an Agreement with Dorna Sports S.L., the commercial rights holder, to organize the MotoGP round in India for the next 7 years, i.e. 2023 - 2029.Motorcycles are in our life blood. MotoGP belongs here!
Contact
Sponsors
sponsor@fairstreetsports.comVIP Village
vip@fairstreetsports.comTravel
travel@fairstreetsports.comTickets
tickets@fairstreetsports.comGeneral Enquiry
team@fairstreetsports.comPress
press@fairstreetsports.comHR
cv@fairstreetsports.comMarketing
marketing@fairstreetsports.com
NEWS
| | | |
| --- | --- | --- |
| Forbes | Oct 13, 2023 | Why the first ever MotoGP in India was a breakthrough moment for motorsports in the country |
| Times of India | Sep 24, 2023 | MotoGP 2023: Marco Bezzechi wins the first Indian GP as Japanese bikes thrive at BIC |
| Times of India | May 26, 2023 | MotoGP team conducts BIC recce ahead of Bharat GP, inspects |
| Hindustan Times | May 13, 2023 | India joins celebrations of historic 1000th MotoGP race with exciting bike rally from New Delhi to Gurugram |
| Hindustan Times | May 12, 2023 | Indian Grand Prix: 'Our race is absolutely on track' |
| Times of India | May 5, 2023 | YEIDA gives nod, sale of tickets for MotoGP can begin |
| Hindustan Times | May 04, 2023 | MotoGP event at Budh International Circuit gets Yeida nod |
| BusinessWorld | Feb 12, 2023 | UP Has The Scale To Attract Investment In Sports To Become A Sports Hub: Anurag Thakur |
| MotoGP.com | Feb 14, 2023 | MotoGP™ visits India's Uttar Pradesh Global Investors Summit |
| Newstrack | Feb 12, 2023 | UP Global Investors Summit 2023: यूपी में मोटो जीपी रेस से 5 हजार लोगों को मिलेगा रोजगार-कार्लोस एजपेलेटा |
| MotoGP.com | Sep 30, 2023 | MotoGP™ to race in India from 2023 |
| BBC | Sep 30, 2023 | MotoGP: India to host first grand prix in 2023 |
| Hindustan Times | Sep 21, 2023 | 2023 MotoGP Race will be held in India; will be called 'Grand Prix of Bharat' |
| Financial Express | Sep 21, 2023 | MotoGP confirms Bharat Grand Prix, maiden race could be held in 2023 |
| Zee News | Sep 21, 2023 | MotoGP to finally make India debut in 2023, Grand Prix of Bharat to take place at... |
| Times Now | Sep 21, 2023 | MotoGP World Championship confirmed in India, MoU signed for 7 years |
| Economic Times | Sep 21, 2023 | It's official: MotoGP announces it will race in India next year |
| ESPN | Sep 21, 2023 | India to host first MotoGP World Championships race in 2023 |
| Business Standard | Sep 21, 2023 | India's first MotoGP to be held in Noida's Buddh circuit in 2023 |
| Indian Express | Sep 21, 2023 | India to host maiden Moto GP race in 2023 |
| India Today | Sep 21, 2023 | MotoGP is coming to India - MotoGP Bharat as early as 2023? |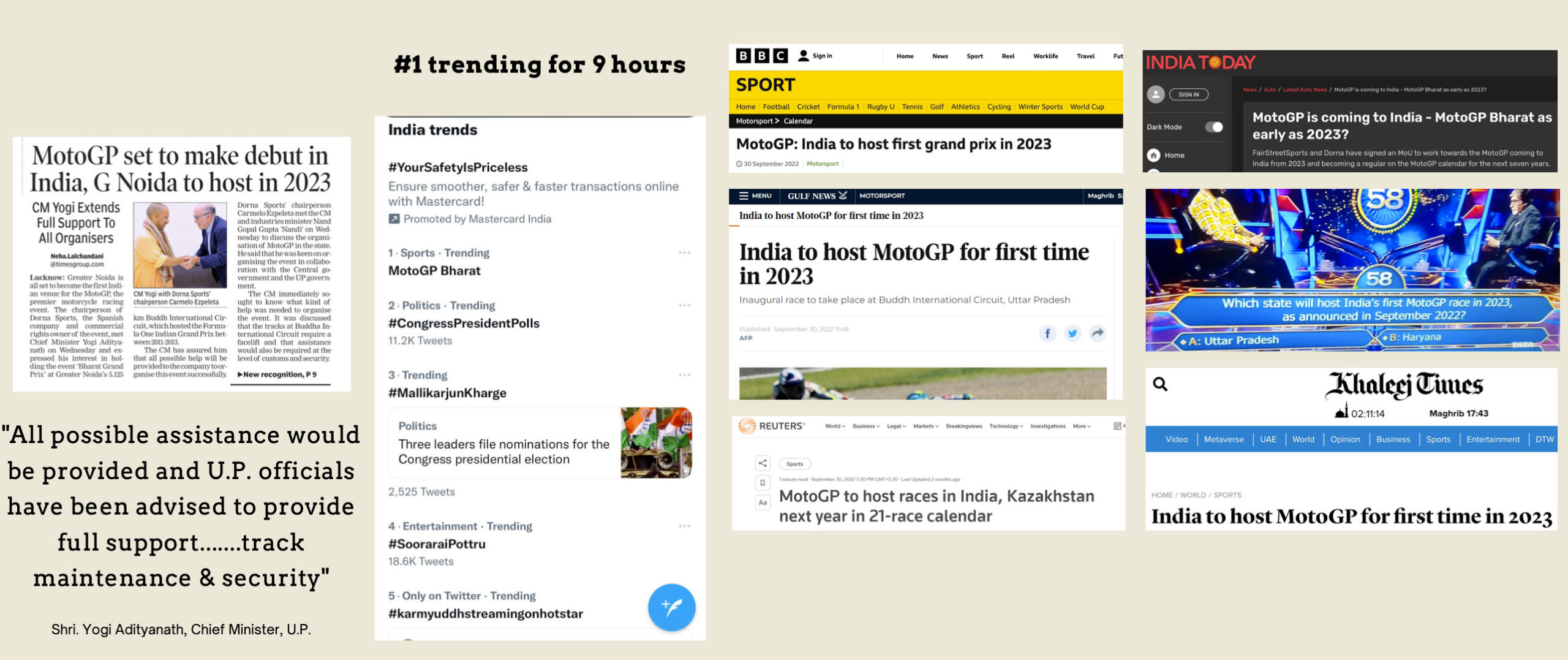 Join the 1,000th MotoGP Race Celebration!
Event Start: May 13, 8 am
Event Flag-off place: Jawaharlal Nehru StadiumPlease provide the following information to participate in the 1,000th MotoGP Race celebration rally in New Delhi.
ALL FIELDS ARE MANDATORY
Thank You!
Confirm your email to get notifications about the celebration and more info on the MotoGP Bharat.